Comprehensive GMAT Study Plan For 1 Month
If you are wondering if it is possible to achieve a score of 700+ in GMAT within 30 days, be assured that it is absolutely possible, provided you have a good grasp of the basic concepts tested in the GMAT. It has been done before, and you too can achieve your target score if you have one month left before your GMAT. However, it would require a good strategy and a lot of hard work. 
Take Free GMAT 2023 Daily Targets
Subscribe To GMAT Preparation Channel
5 Steps To Make a GMAT One-Month Study Plan

1. Identify Your Strengths and Weakness Immediately
Since you have very little time on your hands, you must find the section that will help you boost your score and the area that you will need to
work on early on in your preparation. 
In the first few days, go through the official GMAT guide to understand what questions are expected in the actual exam. In up to four days, you should be able to get a comprehensive image of the entire syllabus of the GMAT. Try to solve ten to twelve questions from each topic in a timed manner, and after you are done, perform a SWOT analysis on your performance.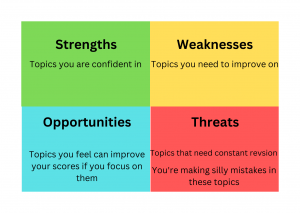 2. Make a Study Schedule
Since you have barely a month, it is a no-brainer that you must utilize each and every day well, before the exam. So start by creating a schedule, ensuring you do not skip even one day during this crucial month before the exam. Keep the first four days to identify your strengths and weaknesses, and start studying from the GMAT guide from the fifth day. 
Now, the question is, how do you identify your strengths and weaknesses? You can take a mock or these topic tests and analyze them well. Analyzing these tests well will help you understand your strong & weak areas.
Make sure that you start with the topics that you are good at. This will give you the much-needed boost in your preparation early on, and you will be much more confident while dealing with topics you are weak at. However, make sure that you cover the weak areas in the quants section and verbal section in time.
You should have a long-term schedule covering your entire month and a short-term schedule covering each week.
3. Take Notes
After identifying your strengths and weaknesses, you can start learning and practising problems from the Official GMAT Guide. You should definitely have a notebook by your side to jot down the main concepts and essential formulae for all the quant topics you learn. This will not only help you structure what you learn, but also be crucial when you revise before the test.
You should also note down all your errors in this notebook and ensure you don't repeat your mistakes. Make sure to update your notebook daily and revise everything in the notebook regularly (preferably every 4-5 days).
4. Take Breaks
You cannot afford to burn out if you have one month in your hand for your preparation. Studying for overly long hours and getting burned out would be counterproductive for an aptitude test like the GMAT.
Hence it is ideal if you take up 3-4 topics each day. Go through the key quant concepts, solve 10-12 questions and then take a break. Again resume with the Verbal section (sentence corrections, reading comprehension, etc.), go through strategies, solve a few questions, and then take a break.
If you sit for long hours, your productivity will not only decrease with time, but you will also be much more tired and possibly even demotivated. Hence taking up a mix of different topics and taking regular breaks in between will help you a lot.
5. Take Mock Tests 
This is the most important step of your GMAT preparation plan. With one month remaining, you need to have ample practice before your 
exam within a short time. You should give at least four mocks before your final exam. Hence, schedule a mock each weekend, preferably on Saturdays, and analyze the mock immediately. Keep Sundays for revising your weak areas identified by your mock test performance.
It goes without saying that your mock analysis is very crucial. Hence on Saturdays, you should give a mock and analyze your performance. If you are short on time, you may skip the AWA section, but try not to skip the IR section. Try to maintain a decent score on the AWA and the IR sections, but focus more the Quantitative and the Verbal Reasoning Sections.
However, it would be best if you stopped taking mocks four days before the GMAT.
Meanwhile, on weekdays, you should give at least one hour to practice GMAT-level problems in a timed manner. To do that, GMATPoint offers a perfect tool for you called Daily Targets. Here you get Free Daily Verbal and Quants tests and their video solutions. It is an excellent tool to keep you in touch with all the topics of the GMAT, on a consistent basis.
Checklist for 1 Month Preparation Plan for GMAT
To further help you with your month-long GMAT preparation, here is a checklist of what should be included in your plan; you can modify it by changing the topics you feel you should address first.
Week
Goals
Week 1

Take diagnostic mock test
Create a schedule for studying, and procure GMAT materials
SWOT Analysis
Complete 1-2 topics that are your strengths
Start Arithmetic

Week 2

Finish Arithmetic
Finish Alegbra
Finish Sentence Correction
Finish RCs
Second mock

Week 3

Finish Geometry
Finish Critical Reasoning
Third mock

Week 4

Finish Probablilty
Finish IR
Practice AWA
Last mock
Also Read:
If you are starting your GMAT preparation from scratch, you should definitely check out the GMATPOINT